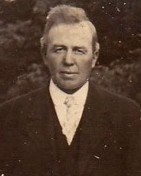 Sheriff Terrance Joseph McCall
Terrance Joseph McCall
Sheriff Terry McCall was shot and killed by a man he arrested for stealing clothes from a travelers suitcase. As he and his deputy were escorting the suspect to jail he suddenly produced a pistol and opened fire killing Sheriff McCall and seriously wounding the deputy. The suspect was apprehended four days later by a posse near Butterfield.
On January 27th, 1921, the suspect was convicted of Sheriff McCall's murder and sentenced to life. Two weeks later it was discovered the suspect had been released from Utah State Penitentiary on May 1st, 1918, after serving 15 years for murder.
Sheriff McCall was survived by his wife, mother, and four children. He is buried in Sacred Heart Cemetery in Brewster.
BIO
Age:

51

Tour:

Not Available

Badge:

Not Available
Incident Details
Cause:

Gunfire

Weapon:

Pistol Handgun

Offender:

Sentenced to Life